Dress Your Groom in a Personalized Knotty Tie
June 29th, 2018

Bride is to wedding dress as groom is to…TIE!
Bride's spend months picking out their perfect dress. There's dress consultations, approval, from friends and family, alterations, until everything is perfect. Your groom deserves the same choices. Knotty Tie Co is a company that personalizes neckties, bowties, and pocket squares.
Picking the Right Tie for the Special Day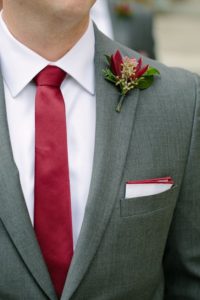 Knotty Tie Co works with you to create the best tie that for the groom and his men so that they match the rest of the wedding. Knotty Tie Co has hundreds of patterns and 560 colors to match from. The most unique part of this process is the personalized tag you can create. You can add a wedding date and initials to the tie to create a special and unique tie for your day.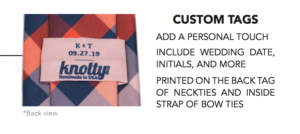 Sizing & Style of the Tie
Knotty Tie Co offers neckties, bowties, pocket squares, and even scarves. In their neckties, they have three width sizing options: classic, knotty, and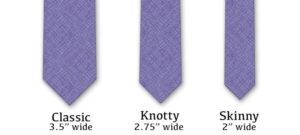 skinny. The best part is that they even offer children sizes so your ring bearer can match your groom.
TIE-ing the Bow on the Perfect Gift
A wonderful way to show your groomsmen how meaningful they are to you is by giving them matching ties to wear as they stand beside you. With a personalized tag, this is the perfect way to commemorate the special occasion, so that every-time they wear that tie they think of your wedding day.
Weddings are full of wonderful and special details, including the tie around HIS neck!