Tuesday's Tip: Crunchy Almond Treat
April 7th, 2015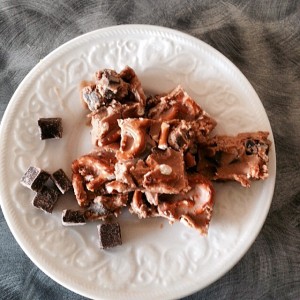 A couple of days ago, I found myself craving something sweet, salty and crunchy. Yet, I had no idea what to eat. So instead of daydreaming on what I could munch on, I decided to make something myself. Today I would like to share with you an easy recipe that requires no baking! Yes my dear readers, you read that right. These crunchy almond treats only require a couple of ingredients.You can either have them as a snack, or serve them as a treat for your guests.
Woohoo I'm pretty excited, so let's get started!
Things you will need:
1/2 jar of almond butter or peanut butter, I like using Justin's Maple Almond Butter
1/4c of coconut oil, melted
Optional: chocolate chips
Optional: 2 tablespoons of agave
½c of crushed pretzels, or any other crunchy topping you may like
Because my coconut oil is usually still a solid at room temperature, I really like to leave the jar in a pan or a small bowl with hot water to let it melt. For me, this process takes roughly 15 minutes so make sure to do that ahead of time if you are short on time.
After that, place the coconut oil into a bowl and add in the butter.  I normally buy maple almond butter, but if you are using the regular kind I would suggest adding in the agave to give it a little more sweetness.
I am a big fan of chocolate so when it comes to the chocolate chips, I like to add about 1/2 cup of chocolate chips. You can add less or more than that amount. After everything has been mixed and placed into a pan, sprinkle the crushed pretzels on top, and refrigerate for approximately 80 minutes.
After they are done just cut them up into bite size pieces and enjoy!
P.S these treats need to stay in the refrigerator, so just make sure to keep them cool if you plan on using them as a treat for guests.
Have a wonderful Tuesday everyone,
~Gaby